Image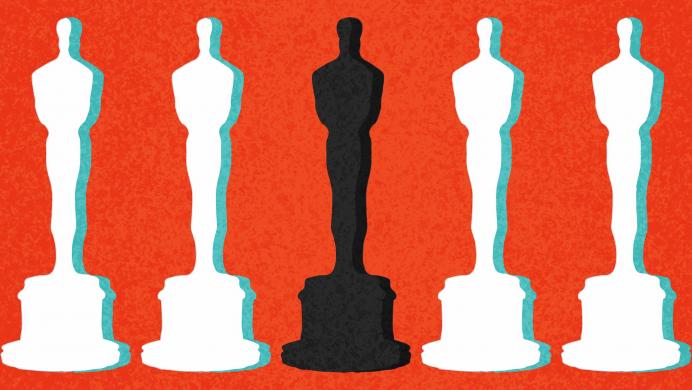 #OscarsSoWhite: The Growth of a Racial Justice Movement
Published on
March 6, 2023
Media Manipulation Tactics Used
Date Range
January 2015 - Present
Overview
The "Oscars So White" social media campaign is an ongoing movement started by activist April Reign to critique Hollywood's racial discrimination. Reign launched the hashtag and viral slogan in 2015 after the Academy of Motion Pictures Arts and Sciences, which gives out the prestigious Oscar awards annually, nominated white actors for the preponderance of awards in 2015. When the Academy did the same thing in 2016, the movement grew. The campaign started with a spontaneous slogan that became viral, and received significant attention from online users as well as media and institutions, ultimately resulting in concrete, organizational and cultural changes implemented by the Academy.
Background
Racial Inequality in Hollywood and the Academy
Consisting of over 9,500 members, the Academy of Motion Picture Arts and Sciences (AMPAS) is responsible for nominating and awarding Oscars to industry professionals annually. The Award Ceremony is a media spectacle in its own right, and the awards are career-defining in their prestige, leading to better job opportunities, pay, and prominence for the winner. Even nominations confer a very high level of prestige in an industry that runs it. In 2013, the Los Angeles Times reported that the racial make-up of voting members of the AMPAS was 93% white, and 76% male. The average Academy member was found to be 63 years old.1 This is a long-standing inequity.
In 1940, Hattie MacDaniel won an Academy Award (aka an Oscar) for Best-Supporting Actress for her role as "Mammie" in Gone With The Wind. It would be 15 years until another Black actor would be nominated for an Oscar and 23 years until Sidney Poitier won for his role in Lillies Of The Field. In 2002, 62 years after McDaniel's historic moment, Halle Barry took home an Oscar making her only the second Black woman to win an Oscar in the history of the Academy Awards – and the first to win Best Actress. The lack of diversity driven by racial in Hollywood and specifically in the Academy continued throughout the 2000s, with 1% of Oscars for Best Actress going to women of color and 8% for Best Actor going to men of color. Similar patterns can be seen in the categories of producer, writer, and director, with 98% of awards going to white people.2
On January 15, 2015, when the Oscar nominations were announced, many on social media labeled it as "one of the least diverse Oscars in years" with 100% of nominees for acting being white. Despite the widespread acclaim for the Martin Luther King Jr. biopic, Selma, neither Ava Duvernay, the black woman director, nor the lead actor David Oyelowo were nominated for an Academy Award. Oscar snubs are as old as the Awards ceremony itself, but the racial implications of this one sparked a fervor.
At this time political polarization and racial tension in the US was mounting. The murders of Michael Brown and Eric Garner at the hands of police the year before, and Trayvon Martin in 2013, had sparked a national movement for racial justice, much of which relied on hashtags to garner political action and media coverage. Black had become the machine for hashtags like #Ferguson, #ICantBreathe, #SolidarityisforWhiteWomen, and #BlackLivesMatter.3 As American cities saw uprisings and protests and as social activism flourished both online and offl, the lack of diversity in Hollywood, coupled with public demands for inclusivity of underrepresented people, led to a climate ripe for a new hashtag calling out the racism of the AMPAS.
The Initial 2015 #OscarsSoWhite Campaign
While the hashtag #OscarsSoWhite is known to have come to worldwide prominence in 2016, the first tweet ever to include this hashtag dates back to January 15, 2015. At 8:56am, immediately after the 2015 Oscars nominations were announced, April Reign, writer, editor and former lawyer, reacted: "#OscarsSoWhite they asked to touch my hair."

With no more than 359 likes and 194 retweets, her tweet managed to start the beginning of an social media activist campaign that spanned an entire year and served as a test drive for the broader campaign that followed in 2016. During this first year of spontaneous campaigning, even without a coordinated push, the campaign was seeded across the web by activists' and institutions' reactions and attempts to undermine the campaign or downplay the lack of diversity at the Oscars. As Reign herself discussed in an interview with The Huffington Post, "My hypothesis is that one time is a fluke and two times is the beginning of a pattern -- that's when people latched on."4
Reign did not formally plan the campaign, but she was familiar with online advocacy. She had been on Twitter for more than 5 years and had already been vocal about issues on inclusion and diversity. After a career in campaign law, she worked as managing editor of two online platforms for Black audiences focused on culture, including BroadwayBlack,5 a publication about African Americans in theater. In the same interview with The Huffington Post, Reign clarified that her intention was about "opening the discussion more on how the decisions were made, who was cast and who tells the story behind the camera. My goal was just to have the conversation and push the dialogue further."
Reign didn't stop there. She kept posting tweets linking her hashtag with comedic white stereotypes, such as: "#OscarsSoWhite it wears shorts during the winter," "#OscarsSoWhite they gentrified my neighborhood, then complained about "newcomers,"" "#OscarsSoWhite there won't be any seasoning on the afterparty food," "#OscarsSoWhite their credit score stays above 700." But the tweet that received the most attention (with over 2300 reactions) was the one that explicitly mentioned the Black Lives Matter movement: "#OscarsSoWhite we'll see a lot of "Je Suis Charlie"6 buttons on the red carpet, but no #BlackLivesMatter."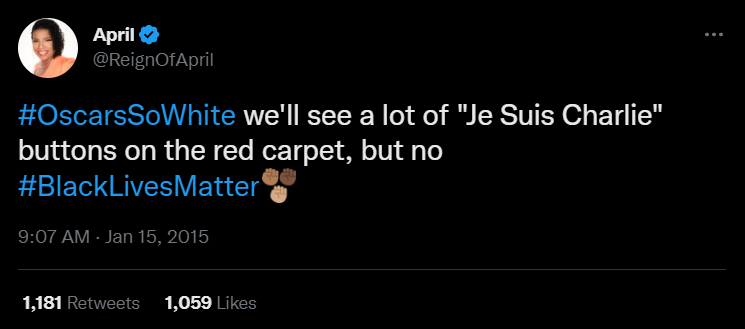 The hashtag soon garnered more attention across Twitter as well as mainstream media. Articles appeared with headlines like "Whiteout in the limelight? #OscarsSoWhite mocks Academy snub of actors of colour" (The Guardian) ; "After nominations, Twitter declares '#OscarsSoWhite'" (USA Today; "#OscarsSoWhite you have to go back to 1995 to find nominees so lacking in diversity" (The Atlantic); #OscarsSoWhite: Critical Reactions to Oscar Nominations Surface on Twitter" (The Wall Street Journal). Each of these prestige publications ran headlines highlighting the campaign by name.7 Late that night (January 15, 2015), Jimmy Fallon tweeted, "This year's Oscar nominees are so white, they just became the frontrunner for the 2016 Republican nomination. #fallonmono #OscarsSoWhite," reaching more than 10,000 reactions. 8
Despite the attention and calls for more transparency from groups like Color Of Change regarding the make-up of the Academy's membership, the reaction from the Academy that year underwhelmed critics.9 The Academy chose Chris Rock as the Oscars 2016 host, and expanded its Board of Governors to represent more diversity: the 51-member board became one-third women, while still only featuring one Asian American and two African Americans. These changes were considered superficial at best resulting in a revival of the #OscarsSoWhite campaign in 2016. 10
Stage 1. Manipulation campaign planning and origins
The #OscarsSoWhite movement exploded again on January 14, 2016, when the nominations for the 2016 Academy Awards were announced. The hashtag was quickly picked up by multiple accounts via . It gained traction across social media platforms and was further amplified by . While most of the active accounts in this campaign had between 30 and 2000 followers, a small handful of high-profile accounts gained significant traction: April Reign's, Hari Kondabolu's, and Joy-Ann Reid's tweets received between ~4000 to ~8000 retweets, serving as strong amplifiers of the #OscarsSoWhite campaign (see Figure 3 below).
On January 14, 2016 comedian Hari Kondabolu posted the joke "#OscarsSoWhite that Rocky got nominated in a movie about Apollo Creed's son." That same day, TV host Joy-Ann Reid tweeted "#OscarsSoWhite black people can't even get nominated for movies about black people...". A tweet from April Reign the originator of the hashtag and 2015 campaign, sent on Jan 26, 2016 also garnered significant attention with almost 3959 retweets and 3914 likes. These three key early posts on Twitter helped re-ignite the #OscarsSoWhite campaign in 2016.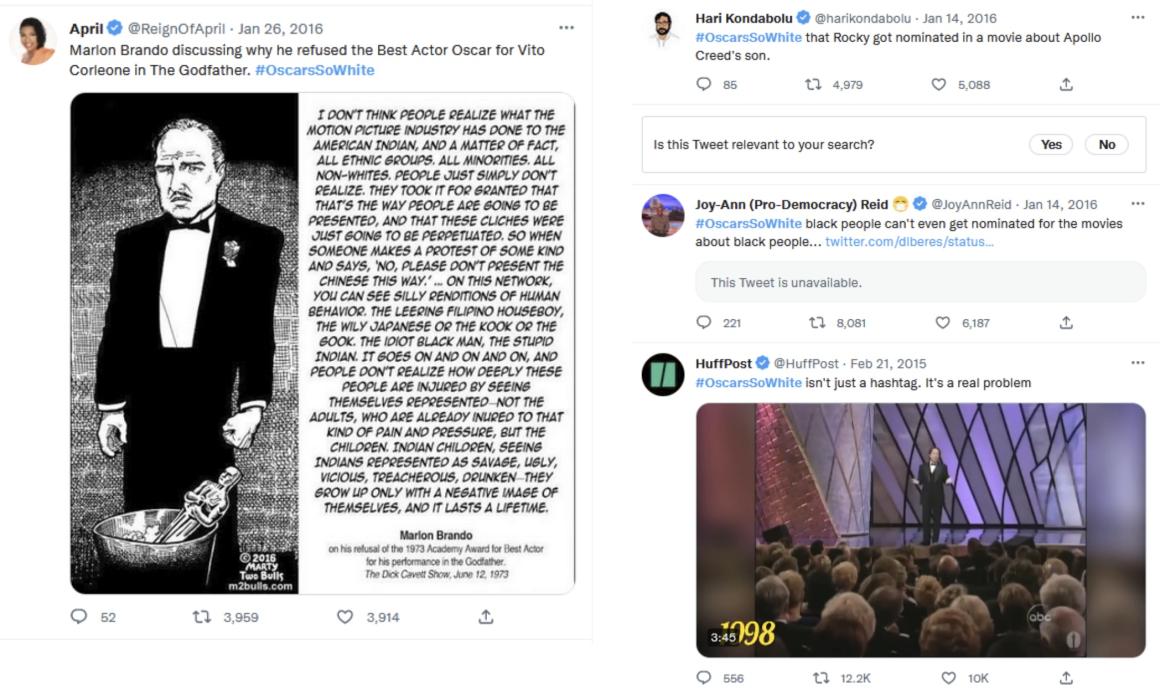 Stage 2. Seeding the campaign across social platforms and the web
The Academy Awards Ceremony was streamed live to millions of viewers on February 28, 2016. High-profile celebrity awards ceremonies have traditionally been moments of excited fervor on Twitter, with live and jokes vying to go viral. Unsurprisingly, the #OscarsSoWhite hashtag reached peak engagement that evening. For example, Korean American author Phil Yu (who had ~113K followers at the time) tweeted, "Fun Fact: More white actresses have won #Oscars for playing Asians than actual Asian actresses have won. Period. #OscarsSoWhite."11 This tweet received 3670 retweets and as such created strong engagement. Yu had initially tweeted about the campaign on January 14, but his tweets back then had only received a few retweets. Because the Oscars were happening that night, #OscarsSoWhite used in conjunction with the generic #oscars hashtag may have increased the amplification of his tweet during the .
YouTubers also joined the #OscarsSoWhite campaign and extended the campaign's reach to a new online platform. As of today more than 1.3K videos have been published across 997 channels using the hashtag #OscarsSoWhite.12 The majority of the videos were published in 2016 and the most watched videos feature Chris Rock's Opening Monologue (16M views) and commentary from comedy shows such as the Daily Show or other news outlets.

Stage 3. Responses by industry, activists, politicians, and journalists
In addition to the campaign's online attention, the hashtag #OscarsSoWhite was used by civil society organizations for offline organization and protest. On February 28, the day of the awards ceremony, the nonprofit civil rights organization National Action Network led a seven-city protest, and Reverend Al Sharpton led the rally and demonstration at the Los Angeles gathering. National Action Network's call to action was for a "Nationwide TV Tune-Out" in which supporters were asked not to watch the Oscars that year.13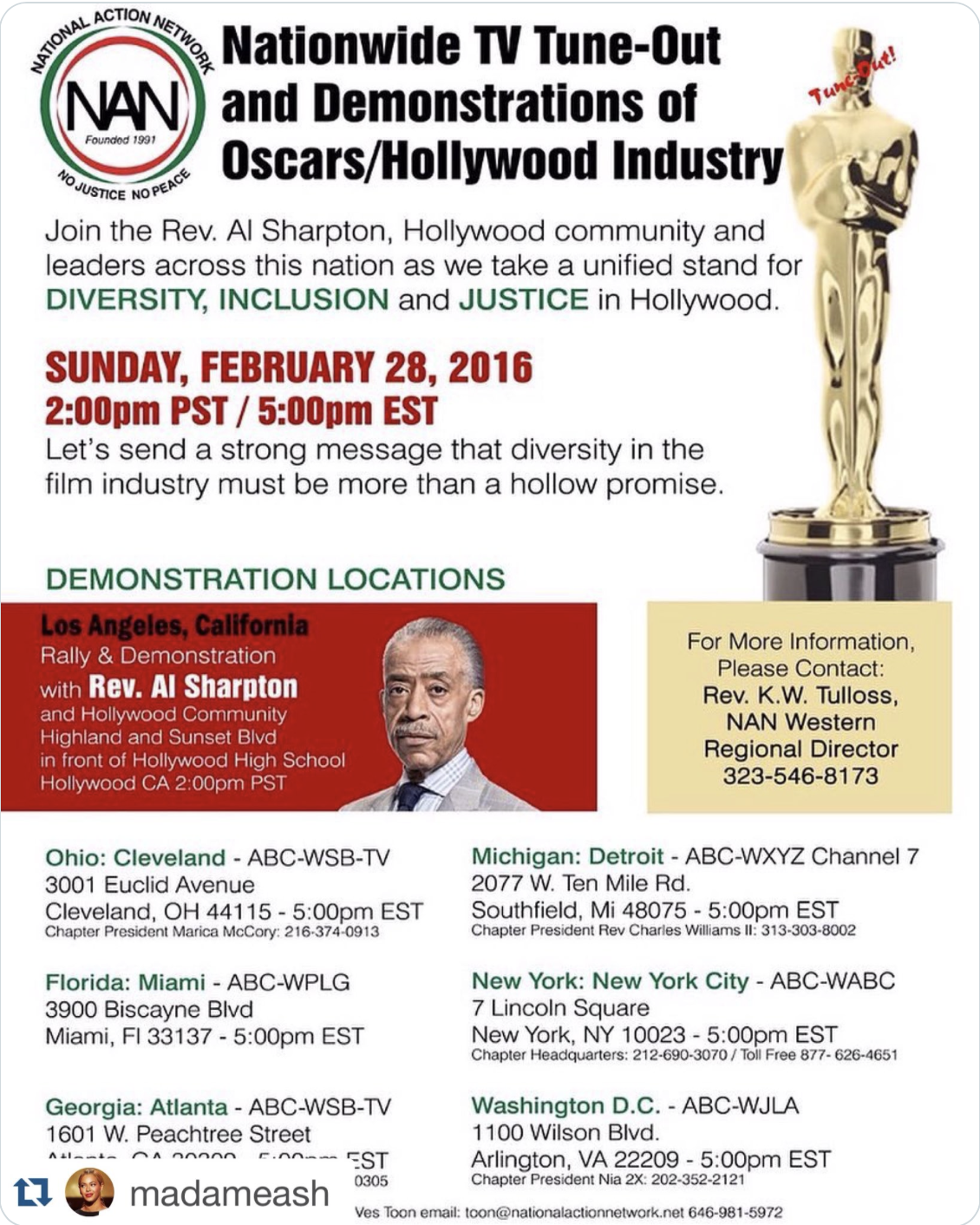 Similar to the 2015 campaign, #OscarsSoWhite was once again covered by mainstream media. However, there was a notable difference in the number of stories between 2015 and 2016. A Factiva search reveals that in 2015 approximately 360 articles were published about the campaign, in 2016 more than 4600 came out. In both cases, most publications happened in the United States, but some also came from other regions highly influenced by Hollywood culture, such as Canada and Europe. Despite critical coverage from right-wing media, most mainstream media coverage was supportive of the campaign.
For example, the Los Angeles Times tweeted on January 14, the day the nominations were announced, "People of color buy about 1/2 of all movie tickets in the US, but make up only 1/4 of roles on screen. #OscarsSoWhite." More reactions came from The New York Times ("#OscarsSoWhite can again, unhappily, be revived for the 2016 Oscar nominations"), The Washington Post ("#OscarsSoWhite, but here are 7 great 2015 performances by black actors") and Buzzfeed. The Guardian highlighted the National Action Network's protest. Prominent leaders like President Obama also joined the conversation,14 and actors Jada Pinkett Smith and Spike Lee pledged to boycott the Ceremony.15
Not all mainstream media reactions were wholeheartedly supportive of the campaign The Hollywood Reporter, for example, published several letters from members of the Academy who denied many of the accusations. According to Latvian American actress and Academy member Rutanya Alda, for instance, "Actors are the least racist people I have ever known in my life. Yet, because of these few disgruntled voices, we are made out as racists in some kind of conspiracy to not nominate people of color. The Academy is supposed to be a place of stature and accomplishment, not a university of affirmative action."
Stage 4.
In hopes of boosting the viewership of the Academy Awards, after the 2015 telecast reported the lowest ratings in six years and in recognition of the critical campaign, the AMPAS tapped black comedian Chris Rock to be the host. In his opening monologue, Rock joked, "I'm here at the Academy Awards—otherwise known as the White People's Choice Awards. If they nominated hosts I would never have gotten this job. You'd be watching Neil Patrick Harris right now." Despite choosing a Black host, the Academy fell short when picking nominees in 2016. Two of the most popular movies of the year, Straight Outta Compton and Creed, were snubbed for any nominations for people of color. Sylvester Stallone was nominated for Creed and two white writers for Straight Outta Compton were nominated. For the second year in a row, all 20 acting nominees were white.
On January 21, 2016 a special meeting was called of the group's 51-member governing board with AMPAS president Cheryl Boone Isaacs. There the Academy "set a goal to double both the number of women and diverse voters by 2020."16 One of the most prominent changes was the requirement that the voting status of members be reviewed every 10 years, and inactive members of the industry will have their voting rights revoked. Issacs hoped this would make room for new, younger, and more diverse members. In June 2016, the Academy invited 683 new members, including actors of color Daniel Dae Kim, America Ferrera, Marlon Wayans, and Ice Cube. In 2017, the academy invited another 774 new members and in 2018 the academy invited a record 928 new members bringing its composition to 38% people of color. In June 2020, the Academy officially announced that the new member class was "45% women, 36% underrepresented ethnic/racial communities, and 49% international from 68 countries."
An important and perhaps more significant effect of #OscarsSoWhite can be seen in Hollywood studios. In recent years there has been a shift in the industry toward hiring more women and people of color to fill production roles, casting roles and many key, powerful positions like director and writer. "Production giants Marvel and Disney committed to diversification efforts, hiring non-white actors in the traditionally white Star Wars series and hiring Ava Duvernay, an African-American female director, to head the production of A Wrinkle in Time."17 Ana-Christina Ramon, UCLA's, director of research and civic engagement, said that Hollywood has an exciting opportunity because films with more diverse casts perform better at the box office. Even more, all-non-white ensemble casts, like that of the 2018 superhero movie Black Panther, which grossed over $1 billion globally and received a nomination for best picture, was a game-changer and held deep cultural significance because of #OscarsSoWhite.
In spring of 2022, the Academy announced what could be the most impactful change to the industry: a requirement of representation and inclusion standards for films to qualify for the 2024 awards.18 This standard calls for a percentage of the cast, crew, and creators of a production to be from underrepresented groups. The academy explained, "Our values at the Academy are based on the belief that arts and sciences, including the arts and sciences of filmmaking, thrive from diversity. This belief, coupled with our mission to recognize and uphold excellence in the motion picture arts and sciences, inspire imagination, and connect the world through the medium of motion pictures, requires a commitment to representation, inclusion and equity."19
Stage 5. Adjustments by manipulators to the new environment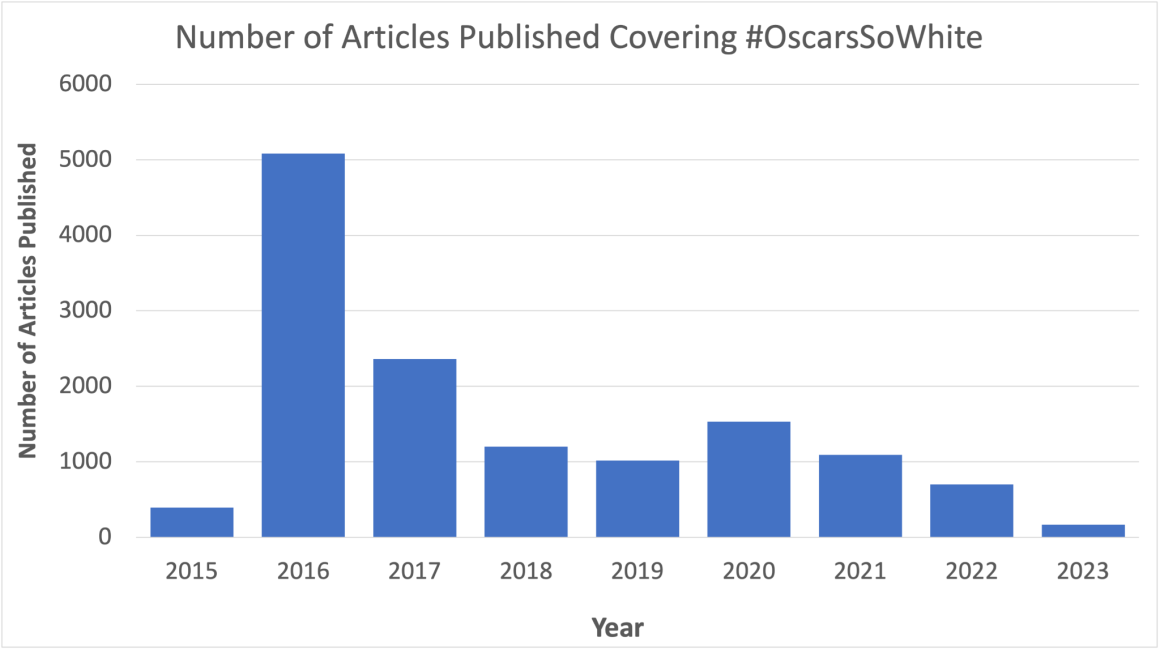 The figure above shows that the #OscarsSoWhite hashtag campaign has been deployed almost every year since it first emerged. When analyzing the time trends of media coverage of the #OscarsSoWhite campaign from 2017 to 2022, one can see that the number of tweets and retweets is declining over time. This downward trend indicates that the #OscarsSoWhite campaign may have lost traction due to the mitigating measures the academy implemented.
From 2015 to 2020 the Academy improved its diversity numbers slightly, , from 92% white to 84% white and from 75% male to 68% male.20 Due to the still majority white, male composition of its membership, April Reign redeployed the hashtag in 2020, calling out the rather minimal improvements the Academy had made.21 Another contributing factor that made the #OscarsSoWhite campaign spark again in 2020 was the fact that actress Cynthia Erivo, who portrayed Harriet Tubman in the film "Harriet," was the only nominee of color in the acting category.22
The Academy made progress on the diversity of its nominees and winners from 2020 to 2021 such that a record number of nominees of color were featured for the 2021 Oscars.23 ,24 As a consequence, engagement with the #OscarsSoWhite hashtag in 2021 fell to an all time low relative to the other years.
That said, in February 2022 the hashtag #OscarsSoWhite trended again after white actors once again dominated the Best Actress category.25 Campaign participants noted that no Black person had yet to win an Oscar for directing. Users on Twitter and other social media platforms, such as , once again used the hashtag to call attention to the Academy's inequality despite an eight-year long presence of the #OscarsSoWhite campaign.26
Conclusion
#OscarsSoWhite was a successful social movement started by one user with one very effective tweet and hashtag. Dissemination was near instant and with each Oscar season it gained momentum. Both the Academy and Hollywood have made large-scale changes to their culture and policies in the last seven years as a result of this campaign. The campaign's success is due to the high-profile nature of the Oscars, the popularity and accessibility by the masses to celebrity headlines and Oscar gossip, combined with the political climate of the United States, and the growing calls for racial justice. These factors created the perfect conditions for a critical social media campaign, driven by marginalized voices and amplified by powerful ones, to have a real impact on an American cultural institution.
1 Horn, John, and Doug Smith. "Diversity Efforts Slow to Change the Face of Oscar Voters." Los Angeles Times, December 21, 2013, https://www.latimes.com/entertainment/movies/moviesnow/la-et-mn-diversi….
2 Lee & Low Books. "Update: The Diversity Gap in the Academy Awards, 2015 and Our Oscars Recap." Lee & Low Blog, Lee & Low Books, February 23, 2015, https://blog.leeandlow.com/2015/02/23/update-the-diversity-gap-in-the-a….
3 Parham, Jason. "A People's History of Black Twitter, Part II." Wired, July 22, 2021, https://www.wired.com/story/black-twitter-oral-history-part-ii-rising-u….
4 Lily Workneh, "April Reign, The Activist Who Created #OscarsSoWhite," HuffPost, February 27, 2016, https://www.huffpost.com/entry/april-reign-oscarssowhite_n_56d21088e4b0….
5"Broadway Black, When the Theater Goes Dark," March 1, 2023, https://www.broadwayblack.com.
6 This slogan refers to the attack on the French satirical weekly newspaper Charlie Hebdo, that took place in Paris on January 7th of the same year and resulted in the killing of 12 people.
7 Kelly Lawler, "After nominations, Twitter declares '#OscarsSoWhite'," USA Today, January 15, 2015, https://www.usatoday.com/story/life/movies/2015/01/15/twitter-oscarssow…; Lanre Bakare, "Whiteout in the limelight? #OscarsSoWhite mocks Academy snub of actors of colour," The Guardian, January 15, 2015 https://www.theguardian.com/film/2015/jan/15/oscarssowhite-mocks-awards…; David Sims, "The Oscars Haven't Been This White in 17 Years," The Atlantic, January 15, 2015, https://www.theatlantic.com/entertainment/archive/2015/01/the-oscars-ha…; Allison Lichter, "#OscarsSoWhite: Critical Reactions to Oscar Nominations Surface on Twitter," The Wall Street Journal, January 15, 2015, https://www.wsj.com/articles/BL-SEB-86061.
8 Jimmy Fallon, "This year's Oscar nominees are so white, they just became the frontrunner for the 2016 Republican nomination. #fallonmono #OscarsSoWhite," Twitter, Jan. 15, 2015, https://twitter.com/jimmyfallon/status/555932035744026624?lang=en.
9 Aaron Couch, "Oscars: Civil Rights Group Pushing Academy to Reveal Diversity Data," The Hollywood Reporter, February 21, 2015, https://www.hollywoodreporter.com/movies/movie-news/oscars-civil-rights….
10 Khaled Beydoun, "Straight Outta Hollywood and Oscar's white supremacy," January 24, 2016, Al Jazeera, https://www.aljazeera.com/opinions/2016/1/24/straight-outta-hollywood-a….
11 Phil Yu (@angryasianman) "Fun Fact: More white actresses have won #Oscars for playing Asians than actual Asian actresses have won. Period. #OscarsSoWhite," Twitter, February 28, 2016, https://twitter.com/angryasianman/status/704040698459381760?lang=en.
12 "#OscarsSoWhite," YouTube, March 1, 2023, https://www.youtube.com/results?search_query=%23OscarsSoWhite.
13 National Action Network (@NationalAction), "Join @NationalAction in a Nationwide #TV #TuneOut Sunday #Oscar2016 #OscarsSoWhite @NAN_LosAngeles #Oscars," Twitter, February 27, 2016, https://twitter.com/NationalAction/status/703583627918098432.
14 David Nakamura, "Obama responds to #oscarssowhite debate on Academy Awards," The Washington Post, January 28, 2016, https://www.washingtonpost.com/news/post-politics/wp/2016/01/28/obama-r….
15 David Ng, "Spike Lee and Jada Pinkett Smith to Boycott Oscars; Academy responds," The Los Angeles Times, Jan 18, 2016, https://www.latimes.com/entertainment/movies/la-et-spike-lee-to-boycott….
16 "TAGS: #OSCARSSOWHITE," #MoveMe: A Guide to Social Media and , January 25, 2023, https://moveme.berkeley.edu/tm-timeline/oscarssowhite/.
17 Ibid.
18 "Academy Establishes Representation and Inclusion Standards for Oscars® Eligibility," Oscars.org, September 10, 2020, https://www.oscars.org/news/academy-establishes-representation-and-incl….
19 Boorstin, Julia, and Harriet Taylor. "Here's Where Hollywood's Efforts to Improve Diversity Really Stand in 2022." CNBC, 28 Mar. 2022, https://www.cnbc.com/2022/03/24/ucla-hollywood-diversity-report-shows-w….
20 April Reign, "#OscarsSoWhite Creator: With a Mostly White Academy, What Could We Expect? (Column), Variety, January 15, 2020, https://variety.com/2020/film/news/oscarssowhite-nominations-diversity-….
21 Ibid.
22 Eric Escalante, "'You can see the landscape changing' | #OscarsSoWhite then and now," ABC10, March 27, 2022, https://www.abc10.com/article/entertainment/events/oscars/oscarssowhite….
23 Sandy Kenyon, "Has #OscarsSoWhite created more diversity, representation among nominees?," ABC7NY, April 21, 2021 https://abc7ny.com/oscars-so-white-2021-diversity/10531674/.
24 Bob Mondello, "At This Year's Oscars, Diversity And Social Consciousness Go Hand-In-Hand," NPR, April 24, 2021, https://www.npr.org/sections/live-updates-oscars-2021/2021/04/24/989635….
25 Aayush Sharma, "Oscar Nominations 2022: #OscarsSoWhite trends after white actors dominate Best Actress category," MEAWW, February 8, 2022, https://meaww.com/oscars-nominations-2022-oscars-so-white-trends-after-….
26 Beth Daley, "#OscarsSoWhite still plagues Hollywood's highest achievement awards," The Conversation, March 25, 2022,https://theconversation.com/oscarssowhite-still-plagues-hollywoods-high….
Cite this case study
Linn Bieske, Diletta Milana, Sarah Rosenberg, "#OscarsSoWhite: The Growth of a Racial Justice Movement," The Media Manipulation Case Book, March 6, 2023, https://mediamanipulation.org/case-studies/oscarssowhite-growth-racial-justice-movement.