Image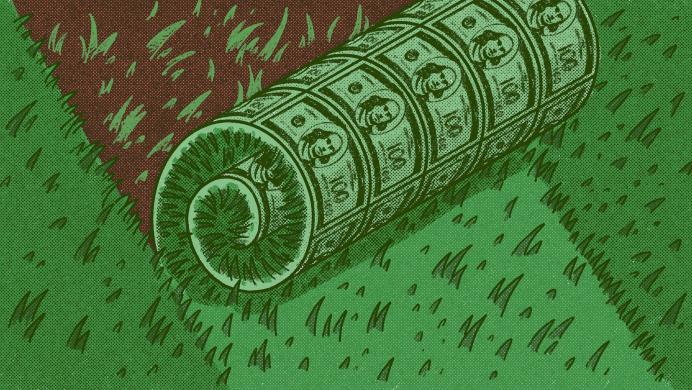 Andrew Tate and the Limits and Power of De-Platforming
Published on
January 11, 2023
Media Manipulation Tactics Used
Date Range
June 1, 2022 - November 21, 2022
Overview
In the summer of 2022, internet influencer Andrew Tate shot to fame as both mainstream and social media coverage amplified his misogynist and prejudiced views. While his initial self-promotion largely hinged on typical online marketing tactics (ex. referral programs as a form of , content creation, subscription services, and testimonials from supporters), his rise in popularity could also be attributed to two other threads of internet culture: hustle culture and social commentators, which worked to spread his messages in different ways.
Proponents of hustle culture, masculinity , and non-traditional financial advisors, were more likely to praise Tate's general ethos and behavior while proponents of culture widely criticized him. These contradictory communities contributed to increasing traffic and content creation containing his name, leading to for the controversial creator. Combined with mainstream media coverage, Tate soon became one of the most searched for terms in August 2022. This case study chronicles this feedback loop between the two communities as well as its interaction with from mainstream media and the difficulties in deplatforming hate speech and combating misogyny online, and the significant steps taken by social media companies to remove him from their platforms.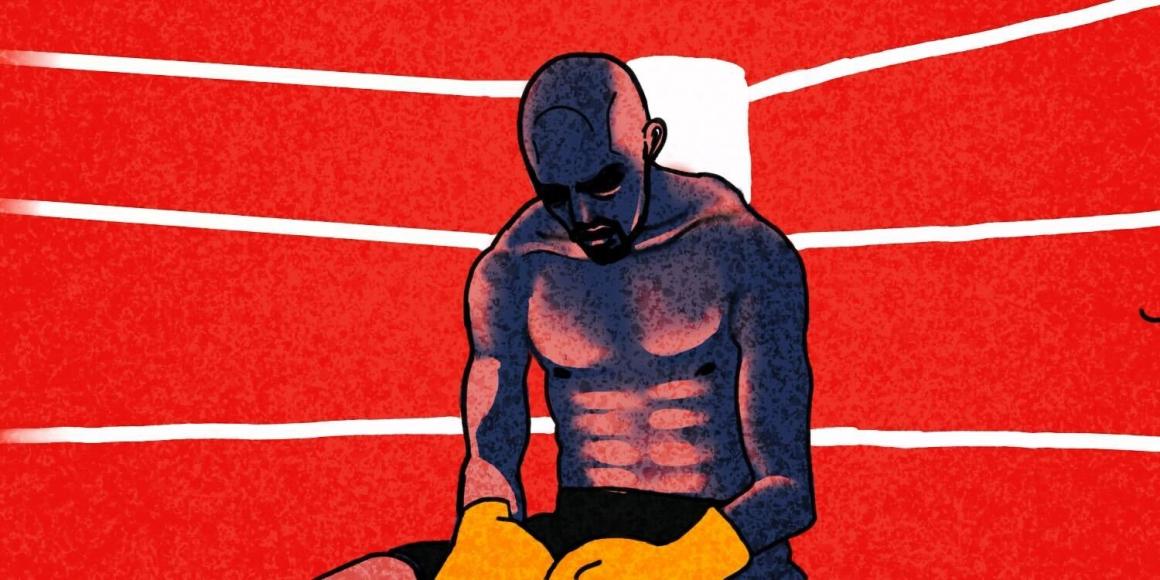 Background
Emory Andrew Tate III is a 36-year-old former professional kickboxer turned influencer and businessman. He was relatively unknown until 2022 when his profile exploded into mainstream awareness. In late August, Tate's accounts were suspended and content praising him was suppressed on multiple social media networks, including , , , , and .1
Initially, Tate's online presence was limited to far-right circles on social media, especially through appearances with Infowars editor Paul Joseph Watson and "Pizzagate" conspiracy-theory propagator Jack Posobiec.2 He first gained notoriety in 2016 as a guest on the United Kingdom's Big Brother reality show.3 However, Tate's time on Big Brother lasted only six days after a video of Tate hitting a woman with a belt surfaced online. Both Tate and the woman responded that the video was role-play and a consensual act, though this earned Tate the reputation as a violent misogynist.4
One year later, in 2017, at the height of the #MeToo movement and as the Harvey Weinstein scandal was first unfolding, Tate tweeted that rape victims "bear some responsibility" for putting themselves in a position to be assaulted.5 He also claimed that a man looking at a woman or whistling at a woman or asking her name isn't .6 To parts of the internet known as the "manosphere," these comments were welcome and received praise. The ensuing controversy led to increased traffic to Tate's , despite the ban from Twitter and other platforms, and a growing embrace from the manosphere.7 Though Tate's mainstream social media presence has diminished, his prejudiced comments can still be found in videos posted by supporters and critics as well as on alternative platforms with more permissive content moderation enforcement.
Stage 1: Manipulation Campaign Planning and Origins
Following his abrupt exit from reality TV, Tate started his business and began marketing, via social media posts and testimonial videos, two products to his growing online following, which consisted mostly of young men.8 The first of these products, launched before May 2019, was membership to a club known as "The War Room," a group chat on the app.9 For the price of $4,497, Tate granted club members access to an assortment of instructional content about how to make money online, access to exclusive member-only webinars, and "invites to the twice-yearly War Room events… held in luxury accommodations across the world."10
The second, and more significant, product Tate marketed to his fan base is a lower-tier version of the War Room, known as Hustler's University (HU). Founded in 2021, every user has to pay $49.99 per month, excluding additional taxes where applicable, to join the HU server.11 In exchange, users receive access to instructional content on subjects such as "stock analysis, options plays, crypto analysis, DeFi, e-commerce, copywriting, freelancing, flipping, financial planning, and business management"12 as well as networking opportunities with other "hustlers." HU promises that members as young as thirteen years old can use the skills learned in HU to make thousands per month.13 Members can also earn money by referring other hustlers to the community using user-specific referral links and affiliate marketing. This referral process had the effect of encouraging users to share videos of Tate–HU's figurehead–on their own social media, thus growing both profiles and drastically boosting Tate's following and notoriety via .
Stage 2: Seeding Campaign Across Social Platforms and Web
Using direct internet marketing tactics, such as the referral program above, Tate was able to continuously gain followers. However, it was not until the summer of 2022 that Tate broke out of his particular Internet niche when mainstream media coverage and the ensuing controversy that emerged launched him into the public eye. Around his peak, Tate quickly had large followings across multiple social media platforms, growing from under one million to 4.6 million followers on Instagram from May-August 2022 (see Figure 2 below),14 740,000 followers on YouTube, and millions of views on viral TikTok videos from hundreds of fan accounts, in part due to incentives to share content from Hustler's University.15 Between July 17 and September 4, he received more Google searches than Donald Trump, Kim Kardashian, Kylie Jenner, and COVID-19 (see Figure 1 below).16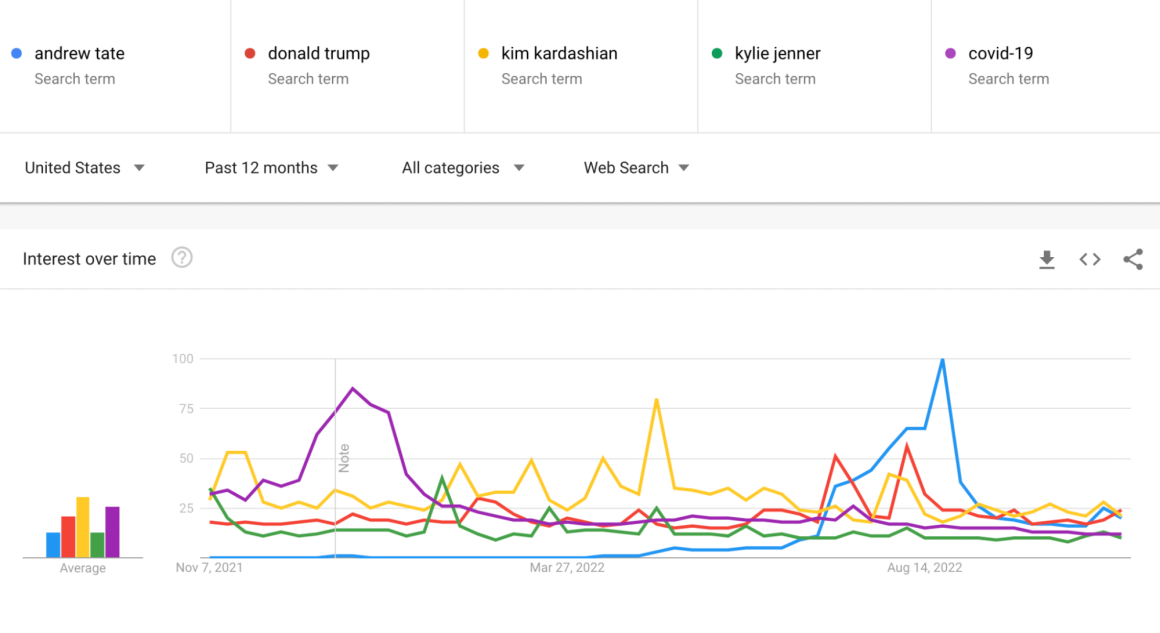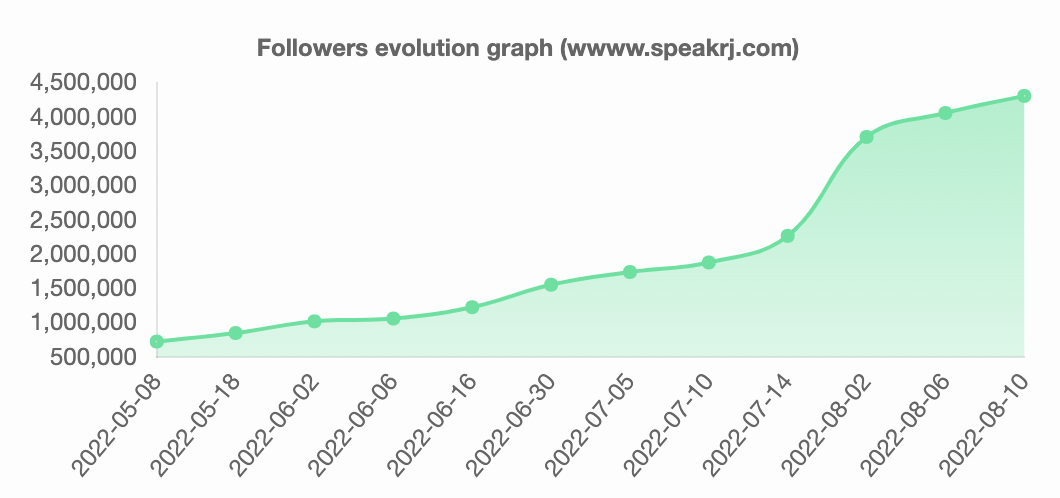 In addition to HU-driven exposure, Tate's online presence expanded when content creator's picked up on outlandish, outrageous, and prejudiced things he said on streams. Some fellow creators felt Tate made inflammatory statements purposefully to draw attention, with the effect of his audience and opponents for engagement. "He knows when he says crazy polarizing things ... that will make for amazing clips that get millions of impressions and leads to millions of dollars for his course," hustle culture influencer Ben Leavitt said of Tate, suggesting he had "an army of people who are pushing his content because they're financially motivated to do so."17 Clips of these outbursts are then disseminated across social media networks by other content creators, many of whom are critiquing the rhetoric or behavior of the original creator, but with the ultimate result being increased attention, followers, and sympathy for the Internet personality, their views, and content.18 Video compilations of with titles such as like "Andrew Tate's Most Controversial Clips,"19 "Funniest Andrew Tate Moments/Compilation🤣💯," 20 and "Andrew Tate Funny/Offensive Moments 😂"21 draw hundred of thousands of individual views and many millions of views on YouTube in totality. In this attention economy the more "canceled" a person like Tate becomes, the more notorious–and therefore monetizable–they can become as well. While Andrew Tate did not invent this strategy, he deployed it repeatedly to promote Hustler's University by maximizing both outrage and profitability simultaneously.
Tate and his community benefited from two threads of internet culture: the support of hustle culture and the critical reactions of social commentary content creators. Hustle culture (see also: alpha-male, sigma male, crypto bro),22 characterized by edited slideshows on Instagram or compilations on TikTok of rich and successful men entering and exiting their own private jets or luxury cars,23 represented much of the pro-Tate side of his brand marketing apparatus. However, while hustle culture largely seemed to praise Tate's work, he drew criticism from the broader reaction and commentary community, including on Twitter and among YouTube cringe-watchers and reaction channels. The reaction community produced scores of videos critiquing Tate for crimes, ranging from "cringeworthy" takes to misogyny and charges of human trafficking for the webcam girls Tate allegedly employed in Romania.24 Beginning with videos like Danny Gonzales's "Terrifying Alpha Male Club" referring to Tate's "War Room," published in February 2022, YouTube, Twitch, and TikTok commentators both drew attention to and likely accelerated the rise of Tate and Hustler's University in the "manosphere,"25 an Internet subculture and a decentralized content network of podcasts, commentators, "pick up artists," and influencers who advise men on all things masculinity from making money to attracting women.26
A longtime antagonism and symbiosis has existed between the manosphere and the bevy of commentators who unintentionally and ironically increase the circulation of manosphere content through its criticisms. An early example of this is David Futrelle and his decade-long effort to provide anti-men's rights activist (MRA) (men's rights activist) content online; Paul Elam, a notorious men's rights activist and regular target of Futrelle's criticism stated, "in the long run, David Futrelle's been a big boost to my career … eventually he sent all kinds of people to my website."27 Tate faced this same antagonistic, but ultimately, not entirely negative attention. He began a media blitz in July 2022, making appearances on shows including controversial content creator Sneako's Twitch stream, popular masculinity influencers Fresh and Fit's podcast (December 2021),28 the 7.6M+ subscriber Nelk Boys YouTube channel (August 1, 2022),29 and eventually, Tucker Carlson's prime-time Fox News show, "Tucker Carlson Tonight," on August 25, 2022 (Figure 3).30 Such content included hyper-traditional, inflammatory and essentialist statements about the nature of women and the need for male social dominance, which according to ABC News, resulted in half of the Internet hating Tate and the other half praising him31 – all the while keeping the general public talking about him, and continuing to increase membership in Hustler's University.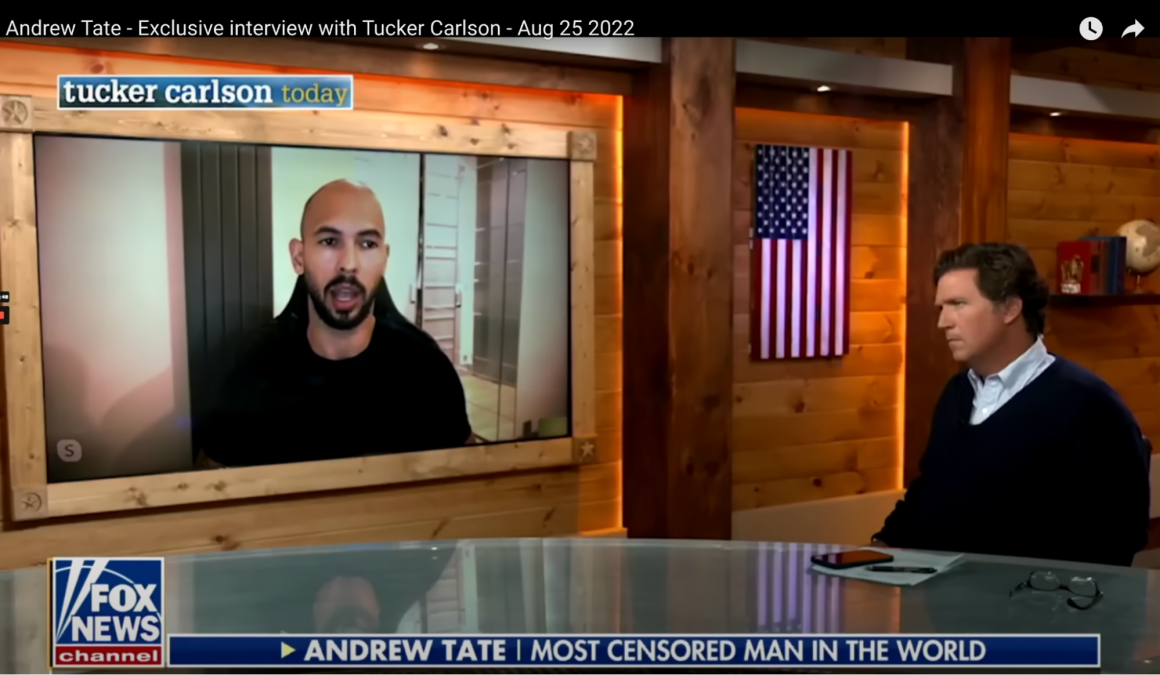 Stage 3: Responses by Industry, Activists, Politicians, and Journalists
On July 12, 2022, Tate received stringent pushback from a moderate conservative figure. Barstool Sports founder Dave Portnoy criticized Tate's message and methods during his appearance on his BFFs podcast, an influential pop culture show with a large following on YouTube and other content hosting platforms.32 After this criticism, Tate remained relatively unopposed by other popular figures or media until July 21, 2022, when he was challenged in a debate over his misogynistic rhetoric by Twitch's most popular political streamer, Hasan Piker.33 Piker, known for his left-wing commentary and critique of right-wing media and influencers, live streamed the combative debate to his 2.3 million followers, and clips from the argument were disseminated on YouTube, Twitter and other social platforms. It was around this time that the fallout of the online controversy began to spill over into mainstream press, with a wide range of news outlets publishing analysis and opinion pieces on Tate, including TMZ (Aug. 6),34 Guardian (Aug. 6),35 Mashable (Aug. 13),36 British GQ (Aug. 15),37 NBC News (Aug. 16),38 Rolling Stone (Aug. 17),39 and Insider (Aug. 18.).40 The articles were typically explainers as to who Tate was, why he had become so popular on the internet, and at times, criticized his misogynistic comments and the wider manosphere that gave rise to people like Tate.
Consequently, videos of Tate speaking on different podcasts trended on platforms like TikTok, and sparked conversations and debates against him in the comment sections. Debates include responses from the White Ribbon Campaign and Hope Not Hate organizations that Tate's views are "extremely misogynistic" and may leave a legacy of popularizing the violent degradation toward women and other minority groups.41 In response to criticism, Tate argued that he was merely playing a "comedic character"42 and that his content includes "many videos praising women."43
As Tate's influence expanded, parallel online communities formed condemning his content and influence, especially for young men. Testimonials from teachers, which described their young male students repeating Tate's talking points, circulated widely on social media.44 An international coalition of high school teachers shared anecdotal evidence of Tate's impact on , including a viral August 17 Reddit post that described a terrifying "rise of incel and misogynistic rhetoric" (see Figure 4 below).45 Additionally, an Instagram community called "the unteachables" created a guide to help address problematic and violent views in the classroom, which called on teachers to play a role in naming and addressing Tate's dangerous impact.46 A number of public figures also raised awareness of Tate's idol-like following among young men, calling on platforms to take action against Tate; these include the popular Instagram accounts of Matthew Bernstein @mattxiv, a queer Jewish activist,47 on August 8 and @shityoushouldcareabout, a New Zealand-based media group with 3.6 million followers,48 on August 11, 2022.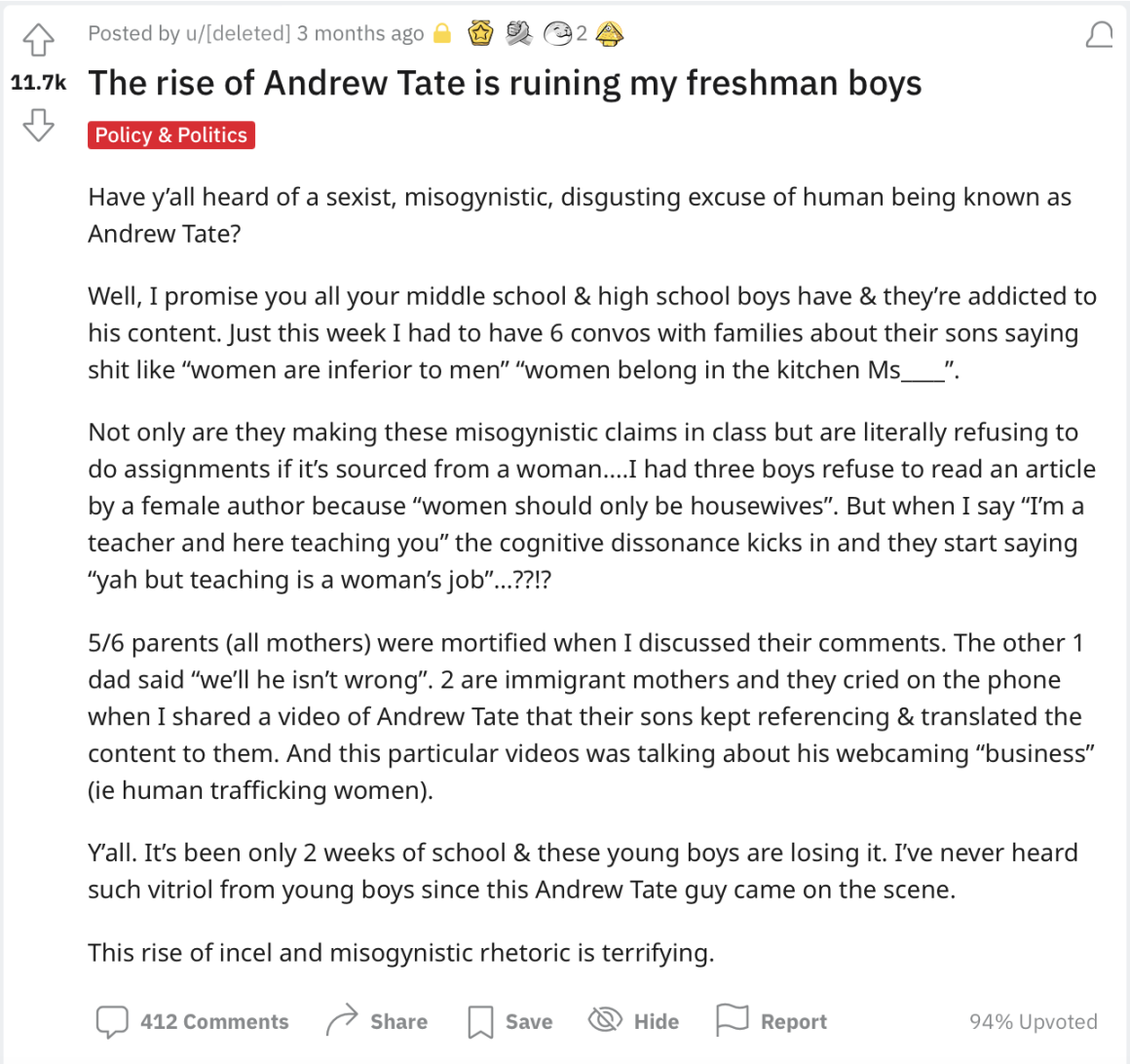 Stage 4: Efforts
Beginning on August 19, 2022, major social media players in the U.S. digital platform ecosystem removed Andrew Tate from their platforms. A Meta spokesperson publicly confirmed Tate's permanent ban based on his violation of Instagram and Facebook's policy on Dangerous Individuals and Organizations.49 , 50 Three days later, TikTok followed suit with a permanent ban and also announced the company's active efforts to identify and remove re-uploads of Tate's content.51 YouTube, too, removed several accounts affiliated with Tate that same day, noting that Tate had violated the platform's hate speech policy.52
Stage 5: Adaptation
Within one week of deplatforming from mainstream social media companies, Tate adjusted his tactics. He resurfaced in several videos promoting his new social profiles. On August 25, Tucker Carlson showed clips of an interview with Tate on his nightly broadcast. In the clips, Tate discussed how he was shifting to Rumble, an alternative video platform that hosts and welcomes influencers that were kicked off YouTube, such as Alex Jones of InfoWars. Tate stated, "I know for a fact my young fans will come with me (to Rumble)" and "this is just the beginning of a mass exodus."53 In a TikTok video on August 29 Tate chanted "Fuck Instagram" before announcing he had migrated to an account on Rumble.54 As of December 22, 2022, Tate's Rumble channel, "TateSpeech," has over 942,000 subscribers, more than the 747,000 he had in August 2022 before his ban.55
Beyond Rumble, Tate is still active on other alt-right and conservative social media platforms, such as GETTR. GETTR is an alternative to Twitter founded by former President Trump's former aide, Jason Miller. Since joining the platform in January 2022, Tate has amassed 142.1K followers and has used the platform to post short, tweet-like messages, as well as links to his Rumble videos.56
As of December 22, 2022, Tate has also re-activated the controversial Hustler's University under a "3.0" version. The homepage for the website directly addresses concerns about the program being a scam and highlights that, despite Tate's criticism from mainstream news and social platforms, 121K people have already signed up for the new program (see Figures 5 and 6).57 The prevalence and growing popularity of alternative social media sites allow Tate to continue to grow his followers and popularity, all while promoting Hustler's University 3.0.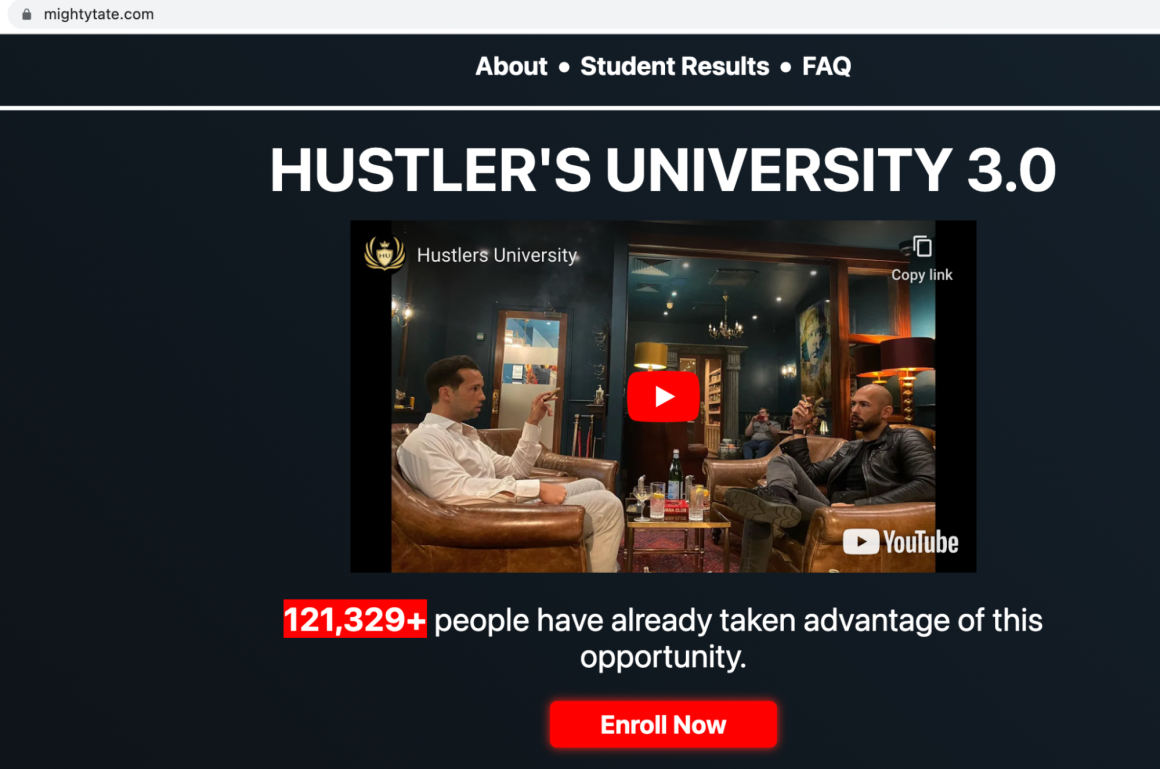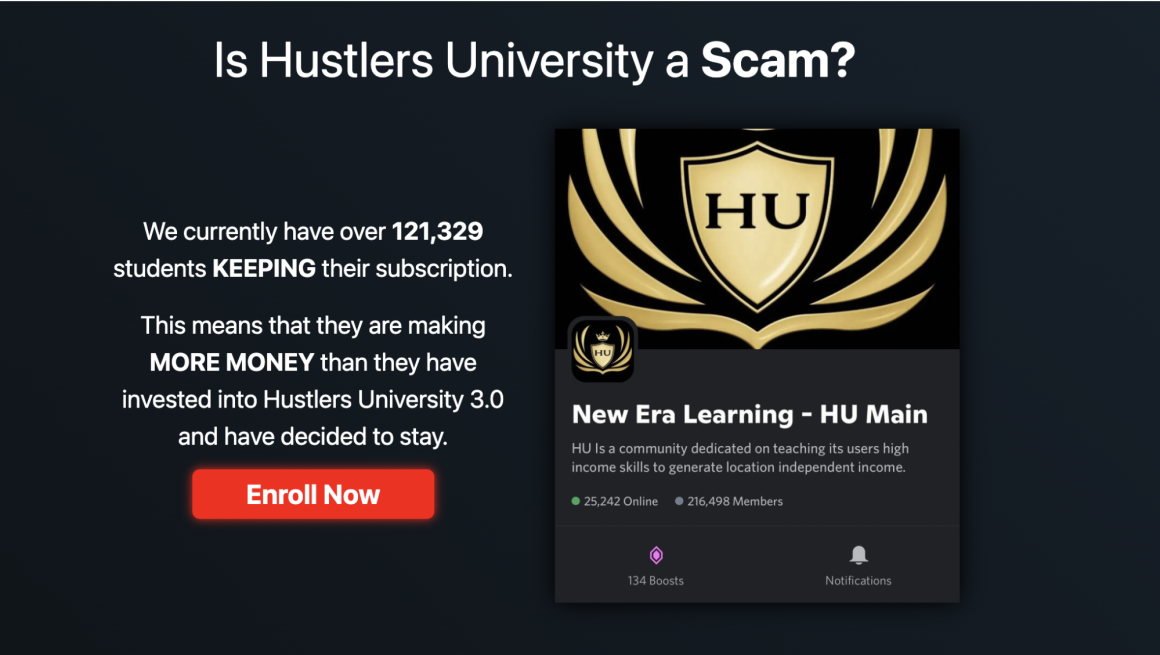 After a five year hiatus, Tate also returned to Twitter on November 18 via his handle @cobratate when Elon Musk reinstated previously banned accounts to promote free speech.58 Only a few weeks into his reinstatement, Tate has amassed over 4.5 million Twitter followers and tweeted 945 times (as of January 11, 2023).59 As Tate remains banned from YouTube and other video platforms, many of his tweets promote his video content on Rumble and share mantras from HU 3.0. In late December, he tweeted at well-known teenage environmental activist Greta Thunberg in a bid to gain attention, which resulted in a response from her and much news coverage. This began a meme cycle featuring his and Thunberg's tweets, which brought him into the spotlight.60
Days later, on December 29, 2022, he and his brother were detained by Romanian authorities for 24 hours on charges of human trafficking and rape.61 The Guardian reported their victims (six have been identified at the time of writing) were allegedly coerced into making pornographic videos and subjected to "physical violence and mental coercion through intimidation, constant surveillance, control and invoking alleged debts."62 Tate was ordered to spend 30 days in detention (beginning December 30, 2022) while Romania's Directorate for Investigating Organised Crime and Terrorism investigates.63 This inspired a fresh round of memes and attention to Tate across mainstream, social, and alternative media.64 Tate's online supporters came to their conclusions quickly. On TikTok and Twitter, they are using hashtags such as #freetopG and #tateinnocent.65 "People lie because they hate Tate" and "I'm 100% sure Tate is innocent. FREE TATE," read tweets in his support.66
1 Daniel Van Boom, "Why Andrew Tate is Banned from Almost Every Social Media Platform," CNET, November 6, 2022, https://www.cnet.com/culture/why-andrew-tate-is-banned-from-almost-ever….
2 Brittany Shammas, "TikTok and Meta Ban Self-Described Misogynist Andrew Tate," Washington Post, August 21, 2022, https://www.washingtonpost.com/technology/2022/08/21/andrew-tate-tiktok….
3 Ibid.
4 Shanti Das, "Inside the violent, misogynistic world of TikTok's new star, Andrew Tate," The Guardian, August 6, 2022, https://www.theguardian.com/technology/2022/aug/06/andrew-tate-violent-….
5 Van Boom, "Banned."
6 Ibid.
7 Adam Smith, "Twitter ignored its own rules to verify kickboxer who said women should 'bear some responsibility' for being raped," The Independent, January 25, 2022, https://www.independent.co.uk/tech/twitter-andrew-tate-raped-verify-kic….
8 Natalie Brown, "Why Are Young Men Supporting Andrew Tate's Disturbing Ideologies?" News.com.au, August 15, 2022, https://www.news.com.au/lifestyle/real-life/news-life/why-are-young-men….
9 "Andrew Tate's Hustlers University 2.0 Has 200,000 Subscribers," Buzzfeed News, November 20, 2022. https://www.buzzfeednews.com/article/ikrd/andrew-tate-hustlers-universi….
10 Internet Archive Wayback Machine, "Tate's War Room," December 29, 2019, https://web.archive.org/web/20191229223731/https://www.cobratate.com/pr….
11 Floate, Charles. "Hustlers University Review (HU 1.0, 2.0 & 3.0) - Is It Legit or A Scam?" Charles Floate, August 17, 2022. https://www.charlesfloate.com/hustlers-university.
12 Internet Archive Wayback Machine, "Welcome to Hustler's University 2.0" July 20, 2022,https://web.archive.org/web/20220720111519/https://www.hustleruniversit….
13 Ibid.
14 "@cobratate Emory Andrew Tate III," Social Media Auditor, SpeakRJ, Last Modified August 10, 2022, https://www.speakrj.com/audit/report/cobratate/instagram.
15 EJ Dickson, "Meet Andrew Tate, the Ex-Kickboxer Red-Pilling the Angry Young Men of America," Rolling Stone, August 17, 2022, https://www.rollingstone.com/culture/culture-news/andrew-tate-tiktok-hu….
16 Brian Bushard, "Ex-Kickboxer/Influencer Andrew Tate Banned By Instagram And Facebook As TikTok Investigating Sexist Content," Forbes, August 19, 2022,https://www.forbes.com/sites/brianbushard/2022/08/19/now-tiktok-investi….
17 Morgan Sung, "The internet can't stop talking about Andrew Tate," NBC News, August 16, 2022, https://www.nbcnews.com/pop-culture/viral/internet-cant-stop-talking-an….
18 William J. Brady, Killian McLoughlin, Tuan N. Doan, and Molly J. Crockett, "How social learning amplifies moral outrage expression in online social networks," Science Advances, Vol 7 Issue 33 (August 13, 2021), https://www.science.org/doi/10.1126/sciadv.abe5641.
19 "Andrew Tate's Most Controversial Clips," YouTube, July 19, 2022, archived on https://web.archive.org/web/20221010095832/https://www.youtube.com/watc….
20 "Funniest Andrew Tate Moments/Compilation🤣💯," YouTube, July 5, 2022, archived on https://perma.cc/8KX9-3XTJ.
21 "Andrew Tate Funny/Offensive Moments 😂," YouTube, August 22, 2022, archived on https://perma.cc/6RHW-JVCB.
22 Günseli Yalcinkaya, "Rise and grind: how 'sigma males' are upturning the internet," Dazed, January 13, 2022, https://www.dazeddigital.com/science-tech/article/55208/1/rise-and-grin….
23 Kurtis Conner, ""Entrepreneurs" On Instagram Are Super Weird," Youtube, March 18, 2018,https://www.youtube.com/watch?v=DtX2pV3lIKo.
24 Das, "Inside."
25 Horta Ribeiro, Manoel, Jeremy Blackburn, Barry Bradlyn, Emiliano De Cristofaro, Gianluca Stringhini, Summer Long, Stephanie Greenberg, and Savvas Zannettou. 2021. "The Evolution of the Manosphere across the Web". Proceedings of the International AAAI Conference on Web and Social Media 15 (1):196-207. https://doi.org/10.1609/icwsm.v15i1.18053.
26 F.D. Signifier, "Dissecting the Manosphere, Youtube, May 27, 2022, archived on https://perma.cc/4Y3T-NDR2
27 Peter C. Baker, "Hunting the Manosphere," New York Times Magazine, June 13, 2017, https://www.nytimes.com/2017/06/13/magazine/hunting-the-manosphere.html.
28 "Andrew Tate BACK and UNCENSORED! The MOST BASED Podcast on YouTube! @TateSpeech," Youtube, Dec. 6, 2021, archived on https://perma.cc/7RH6-FTZJ.
29 "Andrew Tate Stole Our Girl at the Club!," Youtube, Aug. 1, 2022, archived on https://perma.cc/44YP-N288.
30 Todd Spangler, "Andrew Tate Complains That 'Traditional Masculine Values' Got Him Banned From Internet Platforms," Variety, August 26, 2022, https://variety.com/2022/digital/news/andrew-tate-banned-traditional-ma….
31 Sung, "Internet,"
32 "ANDREW TATE AND DAVE PORTNOY GO TOE TO TOE — BFFs EP. 88" YouTube, July 13, 2022, archived on https://perma.cc/UM4Z-GN5Q.
33 Jacob Hale, "Hasan calls Andrew Tate a "baby" after he's 'kicked off' Twitch stream debate," Dexerto, July 22, 2022, https://www.dexerto.com/entertainment/hasan-calls-andrew-tate-a-baby-af…; "Andrew Tate starts FIGHT with Hasanabi," YouTube, Dec 15, 2022, archived on https://perma.cc/D8LC-J6ZG
34 "Bellator Star AJ McKee Challenges Andrew Tate to a Fight" TMZ, Aug. 6, 2022, https://www.tmz.com/2022/08/06/aj-mckee-challenges-andrew-tate-fight-bo….
35 Das, "Inside".
36 Chance Townsend, "Who is Andrew Tate? And why is the controversial figure taking over TikTok?," Mashable, August 13, 2022, https://mashable.com/article/andrew-tate-hustlers-university.
37 Ash Sarkar, "How Andrew Tate built an army of lonely, angry men," GQ, Aug. 15, 2022, https://www.gq-magazine.co.uk/culture/article/andrew-tate-tiktok-fame-m….
38 Sung, "Internet."
39 Dickson, "Meet."
40 Kieren Press-Reynolds and Michele Theil, "'One-stop hate shop': Andrew Tate's rise to TikTok superstardom is fueling violent misogyny and men's rights extremism," Insider, August 18, 2022,https://www.insider.com/andrew-tate-tiktok-hustlers-university-misogyny….
41 Popkin, Sophia. "The Horrifying Legacy of Andrew Tate." The Observer (blog), September 2, 2022, https://observer.case.edu/the-horrifying-legacy-of-andrew-tate/.
42 Phoebe Kowhai, "Andrew Tate Says He Was Just 'playing a Comedic Character' Following His Social Media Ban," The Tab, August 22, 2022, https://thetab.com/uk/2022/08/22/andrew-tate-says-he-was-just-playing-a….
43 Sung, "Internet."
44 mother earth [@nonbinarybooty], "If You Have a Son, a Little Brother, a Nephew, Etc y'all Need to Srsly Be Monitoring What Kinds of Content They're Consuming Because This Is so Fucking Scary," Twitter, August 14, 2022, archived on https://perma.cc/HU6C-NXQT?type=standard.
45 "The Rise of Andrew Tate Is Ruining My Freshman Boys : Teachers," Reddit, November 14, 2022, archived on https://perma.cc/8BGK-SGHW.
46 The.unteachables (the.unteachables), "'As Much as I Don't Want to Give This Loser Any Airtime, Teachers NEED to Know about Him and What He Does …" Instagram photo, November 14, 2022, archived on https://perma.cc/JXJ2-JZDU.
47 Matt Bernstein (@mattxiv), "@tiktok @instagram. btw: this post discusses misogyny and assault." Instagram, Aug. 8, 2022, archived on https://perma.cc/VL2M-NFJB.
48 Shit You Should Care About (@shityoushouldcareabout), "a teacher write in to us about how Andrew Tate's influence is affecting the kids at their school. If you've got young men in you life, please look out for them 💘💘," Instagram, August 11, 2022, archived on https://perma.cc/B3VP-UXDX.
49 "Dangerous Individuals and Organizations," Transparency Center, Facebook, Accessed November 14, 2022, archived on https://perma.cc/3BLA-KHVK.
50 Miranda, Shauneen. "Andrew Tate Gets Banned from Facebook, Instagram, TikTok for Violating Their Policies." NPR, August 20, 2022, archived on https://perma.cc/QMP5-VN6E.
51 Morgan Sung, "Andrew Tate Banned from YouTube, TikTok, Facebook and Instagram," NBC News August 19, 2022, https://www.nbcnews.com/pop-culture/viral/andrew-tate-facebook-instagra….
52 Marianna Spring, "YouTube joins Facebook in banning Andrew Tate," BBC News, August 23, 2022,https://www.bbc.com/news/technology-62602913."How does YouTube protect the community from hate and harassment?," Our Commitments, Youtube, Accessed November 14, 2022, archived on https://perma.cc/R3EX-TAJU.
53 Rumble - 🏴‍☠️ $RUM (@rumblevideo), "'I Know for a Fact My Young Fans Will Come with Me (to Rumble)' ... 'This Is Just the Beginning of a Mass Exodus (to Rumble Away from Big Tech)' -- Andrew Tate on Tucker Carlson." Twitter, August 26, 2022, archived on https://perma.cc/74J5-WX9C.
54 @tatesaestethic, "TOP G on TikTok." August 29, 2022. https://www.tiktok.com/@tatesaestethic/video/7137374073448893738?is_fro….
55 "TateSpeech," Rumble, Accessed November 20, 2022, archived on https://perma.cc/QBU5-5TL7.
56 Andrew Tate (@cobratate), Getter, Accessed November 20, 2022, archived on https://perma.cc/H7H6-4PBL.
57 "Hustlers University 3.0." Accessed November 20, 2022, archived on https://perma.cc/49XP-KVZ9.
58 Glaze, Virginia. "Andrew Tate Back on Twitter After Elon Musk Lifts 5-year Ban." Dexerto, November 18, 2022, https://perma.cc/49XP-KVZ9.
59 Tate Speech, YouTube, Accessed December 4, 2022, archived on https://web.archive.org/web/20220817135216/https://www.youtube.com/chan….
60 Evans, Greg. "21 of the funniest about Andrew Tate getting 'owned' by Greta Thunberg," Indy100, December, 29,2022, https://www.indy100.com/viral/andrew-tate-memes-greta-thunberg
61 Ibid.
62 Shanti Das, "Andrew Tate arrest: TikTok and Twitter under fire over false posts from fans," The Guardian, January 1 2023, https://www.theguardian.com/media/2023/jan/01/fans-andrew-tate-king-of-….
63Ibid.
64 Tenbarge, Kat, and Rosenblatt, Kalhan. "Andrew Tate's arrest inspires misinformation, memes and defenders online," NBC News, Dec. 30, 2022,https://www.nbcnews.com/tech/internet/andrew-tate-arrest-twitter-thunbe…
65Ibid.
66Ibid.
Cite this case study
Jennifer Li, Richard Miles, Pearl Risberg, and Caroline Sambuco, "Andrew Tate and the Limits and Power of De-Platforming," The Media Manipulation Case Book, January 18, 2023, https://mediamanipulation.org/case-studies/andrew-tate-and-limits-and-power-de-platforming.